COLD WAR – ESSAY 2

GOOD WWI ESSAY: Example WWI Essay
The last obligatory part of the course focus on the Cold War 1945-1989/91. During the three following weeks we will prepare your second essay test – The Cold War! Here is a bit more detailed account of what will be dealt with in the three lessons – and what specific parts you should focus on.
During the coming lessons we will work with three different questions about the Cold War – one at each lesson (NOTE: we will only use one of these questions in the test). In this first lesson we will start with a repetition of Essay Writing. Then we will talk about PEACE after WWII which will lead us into the theme of the first lesson "The Origin of the Cold War".
Repeat the basic principles of essay writing. Here are the documents that was published when we did the last essay – about WWI:
Overview of an essay: Overview – Essay
Textbook – Overview of an essay: Textbook – Essay
Essay Writing: ESSAY WRITING
Advice – Essay: Advice – Essay Writing
Essay "training paper" (pdf): Essay training paper
Essay "training paper" (Word): Essay training paper
Image – Essay Structure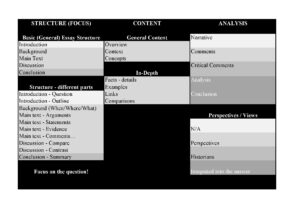 Evaluation of an essay: Essay evaluation
EXAMPLE – WWII-Essay: Example of a good essay
EXAMPLE – WWII Essay (with comments): Good Essay – with comments
INTRODUCTION: Introduction – three examples
HOW TO WRITE AN ESSAY – IN-DEPTH: HISTORY ESSAY In-Depth
Europe 1945: In May 1945 the long-awaited peace came to Europe. Peace did not mean everything was fine. This PowerPoint shows how certain sections of the population, usually women, was affected by peace in 1945:
PP: PEACE 1945
Essay Question 1: "Discuss the outbreak of the Cold War up to 1949"
WORK WITH ESSAY QUESTION 1: Since this is an open-ended question, it's very important to consider how the answer should be structured. The following parts should be included in the answer:
Definition(s) of the Cold War
Differences between the superpowers (political, ideological, economic, cultural, etc…)
Different theories about who was responsible for the outbreak of the war (Historiography)
Events that we can directly or indirectly relate to the outbreak of the Cold War
Important years connected to the events
…and always consider how this material should be structured!
TIMELINE – COLD WAR 1945–1949
1945   Yalta/Potsdam
1947   Truman Doctrine
1947   COMINFORM
1948–51   ERP – Marshall Plan
1949   NATO
1948–49   Berlin blockade
1949   West Germany (BRD)
1949   East Germany (DDR)
1949   COMECON
1949   USSR – A-bomb
1949   PRC – People's Republic of China
Video – Comrades
Video – Iron Curtain
Video – The Marshall Plan
Video – Berlin
TEXTBOOK
WHAT WAS THE COLD WAR? (pages 238-241): Different ways to run a country / Differences over the past / Differences over the future / Potsdam / The atomic world / The Soviet Satellite States / The Iron Curtain / The Truman Doctrine / The Marshall Plan
THE BERLIN CRISIS 1948 (pages 242-243): The German problem / Tension increases / Berlin blockade / Tough decision / The Berlin Airlift / Results of the crises / NATO and the Warsaw Pact
IBDP TEXTBOOK
Cold War 1917-1949: Cold War 1917-1949
Key features of the Cold War: Key features of the Cold War
An overview of the Cold War: David Williamsson – An introduction to the Cold War
Here you find the links to the two other parts of the Cold War:
1. Cold War 1950-1975
2. Cold War 1975-1989/91