FOURTH LESSON
We covered the Classical Period with the help of this PP: Classical World PP. During this lesson we also saw a clip from "300" – the Battle of Thermopylae 480 BC (with Leonidas and the Spartans). I asked you if this battle actually took place… (Battle of Thermopylae). We also discussed the democracy of Athens; Women in Greece (difference between Sparta and Athens) and the Fall of Rome.
At the later part of this lesson we covered the Middle Ages – also with the help of a PP: Middle Ages PP
So how do you need to prepare for the first test (Multiple Choice 1) in History?
Make sure you go through your notes! Remember we started with making sure you knew how to take notes… This will show you what I have focused on: like family tree; DNA; timelines; PP: "From Big Bang to the first European Civilization"; Homo naledi videos; Stone Age periods and something about the hunting, fishing and food gathering society; PP: "Classical World"; Athenian democracy and the fall of Rome; Battle of Thermopylae; PP: "Women in Ancient Greece and Rome"; PP: "Middle Ages…" (+ a few comments during the lessons). If you have good notes to this you will "nail the test"!
THIRD LESSON
TEST SCHEDULE IB20A: Note that this is the test schedule for IB20A – (Thursday lessons…):
Week 38: Thursday 17 September (1 hour): Multiple Choice 1
Week 41: Thursday 8 October (Send in / Hand in): ICT 1
Week 45: Thursday 5 November (2 hours): Multiple Choice 2
Week 50: Thursday 10 December (2 hours): Source Criticism 1
Week 3: Thursday 21 January (2 hours): Essay 1
TEST SCHEDULE IB20B: Note that this is the test schedule for IB20B – (Wednesday lessons…):
Week 39: Wednesday 23 September (1 hour): Multiple Choice 1
Week 42: Wednesday 14 October (Send in / Hand in): ICT 1
Week 46: Wednesday 11 November (2 hours): Multiple Choice 2
Week 49: Wednesday 2 December (2 hours): Source Criticism 1
Week 3: Wednesday 20 January (2 hours): Essay 1
BIG BANG: I asked you to please explain "Big Bang"… Then I asked two more specific questions:
1. When did "Big Bang" take place according to the video you watched?
Over 13 billion years ago!
The second question showed what kind of questions you will have in the Multiple Choice Test:
2. Big Bang is an expression connected to the universes earliest development. What is this expression describing?
1. An explosion
x. An expansion
2. An emotion
GENDER IN EARLY HISTORY: Another assignment you had was to compare two traditional versions of the earliest development of the human evolution: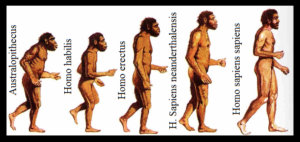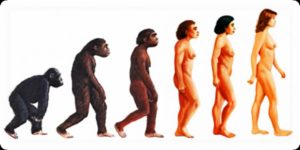 Why do we often find the first version but hardly ever the second one?
We discussed this in class and added another aspect – ethnicity…
RISING STAR EXCAVATION – HOMO NALEDI: The third part from the last lesson were three questions connected to the video about the excavations in South Africa at the Rising Star Caves:
1. How did they hire the people that worked with the actual excavation of the cave?
2. If this had been the 1950's – how do you think they would have hired the workers -(excavators of the cave) at that time?
3. In what way did our view of early human development change after the excavation of the Rising Star Cave (according to the scientists at the end of this video)?
The answers to question 1 and 3 were fairly easy, but the second one was obviously a bit harder…
Good discussion that led to some important conclusions (one of the aims of the History Course is to try to understand events and behaviour in the past with reference to that time – and not today…). South Africa in the 1950-s during the Apartheid System… These were factors that we needed to account for. I asked if anybody had followed the link and seen Lee Bergers speech about Homo Naledi for National Geographic. Video-link: Human evolution – Professor Lee Berger in a lecture for National Geographic (link)… It seems like just a few students had actually seen this clip. A pity – certain parts was something that made the discoveries of all the bones of Homo Naledi something very special like:
HUMAN EVOLUTION – IDEAS TODAY: So after the Homo Naledi and several other new discoveries history about the early evolution of humans has changed – and will continue to change. Here is a picture that i more modern: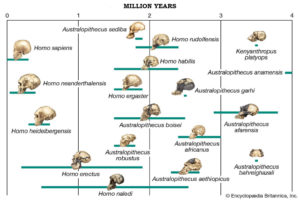 ..and an article in Encyclopaedia Britannica: Human Evolution Britannica
STONE AGE: Early humans hunted, fished and gathered food (and material) for their survival. This is a paper on how we think people lived at this time: Hunting Food Gathering and Fishing Society. We call this long period "Stone Age". In Scandinavia Stone Age is divided into three periods – paleolithic ("old stone"); mesolithic ("middle stone") and neolithic ("new stone") periods.
FROM BIG BANG TO THE FIRST EUROPEAN CIVILIZATION: I showed a PowerPoint about the development from "Big Bang" to around the year 2000 BC (BCE). I tried to explain the development so you would get an idea on what's important when we cover this period just on the "surface". Here is a copy of the PP: From Big Bang to the first European Civilization and here is some text to this PP: Text to From Big Bang to the first European Civilization
CLASSICAL WORLD: After the break you were divided into four different groups. One group made a timeline of Ancient Greece and got the task to explain the difference between the Classical Period and the Hellenistic Period. Another group got to discuss and develop arguments for and against the statement "Ancient Athens was a democracy". The third group made a timeline of Ancient Rome and they got the task to explain the Roman expansion. The last group developed different arguments for the "Fall of Rome". Under here is the material these groups received:
2. Ancient Rome


I also want everybody to read this paper: Women in Ancient Greece and Rome
WORK PAPER IN CLASS: Here are the papers you produced in class as answers to the assignments above: Class Work IB20A and Class Work IB20B. You should look at these papers and wee if you can add anything in your own notes (from the videoclips, the articles and the booklet). We will talk about these papers in next class!
HOMEWORK: Make sure you read all the pages of the Booklet – Living World History. You should also study the material that's on this homepage. The test will take up things we have done in class and information published here…
SECOND LESSON
FAMILY TREE: The very first thing I did during this lesson was to collect your homework – the "Family Tree".
GRADING: The second thing I brought up was how we grade this course. I used the following terminology: "progression"; "formative evaluation" and "collective evaluation" and explained how these terms fit into the evaluation of your performance in our History course. I also told you to ask me if you don't understand the grading criteria. More will follow with each assignment.
HOMEPAGE: I briefly explained the importance of this homepage and that you need to visit it regularly www.macgregorishistory.com
HISTORICAL TIMELINE: In the classroom we created a time-line of our history – from the very beginning (Big Bang) to today. It was not completely correct…
Example of a common time-line:


Riddle "The time-line we constructed is correct and at the same time completely wrong"
Here is one explanation of the answer to the riddle above: Timeline Chinese Dynasties. With other words – a time-line is regional, local, national, etc… There are many different kinds of timelines. It depends on the perspective – our constructed timeline was mostly a "Western Civilization timeline". A Chinese timeline would look different, and so would a Swedish one.
Here are some maps that also shows different perspectives: The World…
STUDY TECHNIQUE: To be able to manage your work load and more demanding studies it's important to have good work ethics and an efficient Study Technique. Here I gave you a bit of a historic perspective of Study Technique as well as some advise on "How to Make Notes".
HISTORY OF STUDY TECHNIQUE
Taking notes is fairly easy but Making Notes is different. Read this booklet and see how you can improve your "Note making"…: MAKING NOTES
HISTORY STARTS
It's appropriate to start from the "very beginning" – with Big Bang!
The development towards humans started only 10-5 million years ago. A very common way of showing this evolution is: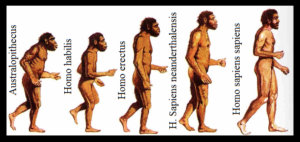 …but why does it not look like this?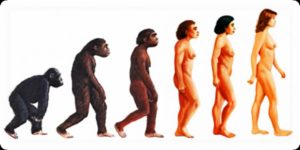 Try to come up with a good answer to this question.
This traditional way of looking at the evolution has changed during the last 10-20 years:
After you watched this video I want you to answer the following questions (we will bring the questions/answers up at our next lesson):
1. How did they hire the people that worked with the actual excavation of the cave?
2. If this had been the 1950's – how do you think they would have hired the workers -(excavators of the cave) at that time?
3. In what way did our view of early human development change after the excavation of the Rising Star Cave (according to the scientists at the end of this video)?
Video-link: Human evolution – Professor Lee Berger in a lecture for National Geographic (link)
HOMEWORK: Answer the questions above (about a female traditional evolution image) + the three questions to the video) and then read this textbook: Booklet – Living World History